Jinjo is a modern Sumiyaki restaurant by Les Amis helmed by chef Makoto Saito. It specialises in traditional Japanese charcoal-grilled fare using prime seasonal ingredients.
Cold Bites
The menu has a selection of hot and cold starters. From the "Hot bites" section, we chose Kotsuzui (bone marrow) ($12), Yaki Goma Tofu ($7.50), and Chawanmushi (steamed egg custard with truffle) ($12). There was a generous serving of soft, rich, creamy bone marrow which, though delicious, was slightly on the fatty side – definitely for sharing. The chawanmushi was also very tasty. Our favourite dish was the tofu, which had an interesting creamy interior under a crisp surface. It was so good, we ordered a second helping.
We also had Sakana Harumaki (fish fritters) ($8) which was fresh and tasty, delicious Nasu (eggplant with bonito) ($12) and Umaki (Unagi omelette) ($12) – tamagoyaki with eel rolled inside ($12). This too was tasty, but eel can be a bit bony.
From the cold starters, we ordered the sweet and juicy momotaro tomato ($10) and Wagyu Yuba (Wagyu beef, beancurd skin) ($13). The latter was bite sized with little pieces of wagyu in it, not a dish for sharing.
Charcoal Grill
From the charcoal grill, we ordered hotate (Hokkaido scallops) which were sweet and fresh ($14 for a plate of four scallops), chicken skin ($5), chicken wing ($6), tsukune (chicken meatballs) ($5), negima (chicken and leek) ($5), chicken heart ($5) and wagyu sirloin ($24). We also had zucchini ($5), sweet potato ($8), aomori garlic ($14), aichi onion ($7). The grilled food was simple, tasty and very satisfying.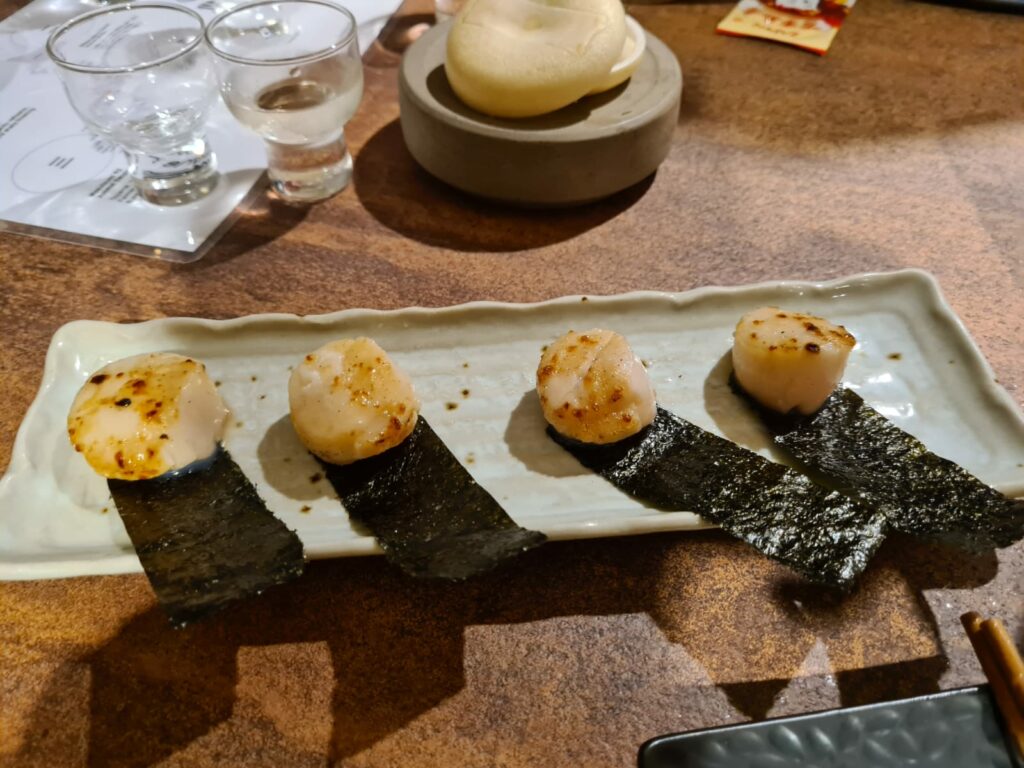 Donabe
To end our main meal, we shared a Donabe (a Japanese rice pot) with spicy beef ($48). This takes 35 minutes to prepare. There is also a truffle Donabe ($55) and an unagi (eel) Donabe ($35). The beef Donabe had the taste of a rich corn beef hash or stew in rice. It was tasty but really filling and should be shared between at least two people if you've had a lot of starters and grilled food.
We had excellent Yuzu sorbet ($6) and black sesame ice cream ($6) for dessert.
There is an extensive sake selection at Jinjo including a premium Sake flight of four sakes.
Jinjo also has three set lunch menus on Monday to Friday:
Gyu Set $42 (100grams Kagoshima yakiniku beef, onsen egg, japanese rice)
Tori Set $27 (Grilled chicken, chicken meatball, onsen egg, japanese rice)
Unagi Set $34 (Grilled unagi, japanese rice)
Each set is served with salad, pickles and soup and we will definitely be back to try it!
Overall: Simple tasting, but food is beautifully grilled and of a high quality. Would definitely return.
Favourite Dish: Donabe with Beef and the Chawanmushi!
Overall: $$$