The Masses, at 85 Beach Road, describes itself as a Franco-Asian restaurant that serves food that Monsieur, Mademoiselle and Ah Ma would love. 
What we like most about it is that it has an innovative menu that changes fairly frequently. Other than a few popular staples, there are always new exciting dishes to try! The vibe is casual, with lots of posters, good music in the background (well, good for us 80s music-loving people anyway) and even French-style seating outside on the sidewalk to cater for the evening crowd. Picture the sidewalks of Paris whilst ignoring traffic and the building works along Beach Road. 
The 'Chef' Menu
Our group were all quite ravenous on the evening we visited, so we each ordered the 'Chef Menu' (only available at dinner) which is priced at $65. 
This started with homemade bread which included brioche and a very good sourdough, accompanied by umami butter, caramel kaya, truffle butter and miso butter.  The bread was good and the spreads were interesting and tasty.
This was followed by a one-bite snack: a choice of either one oyster or one kueh pie tee.  The oyster was really fresh, juicy and ours came with a traditional dressing (there was a choice of two dressings), and the kueh pie tee, served on a bed of roasted rice, was delicious too – filled with juicy sweet crabmeat.  Both snacks were small and appetising and a good start to the meal.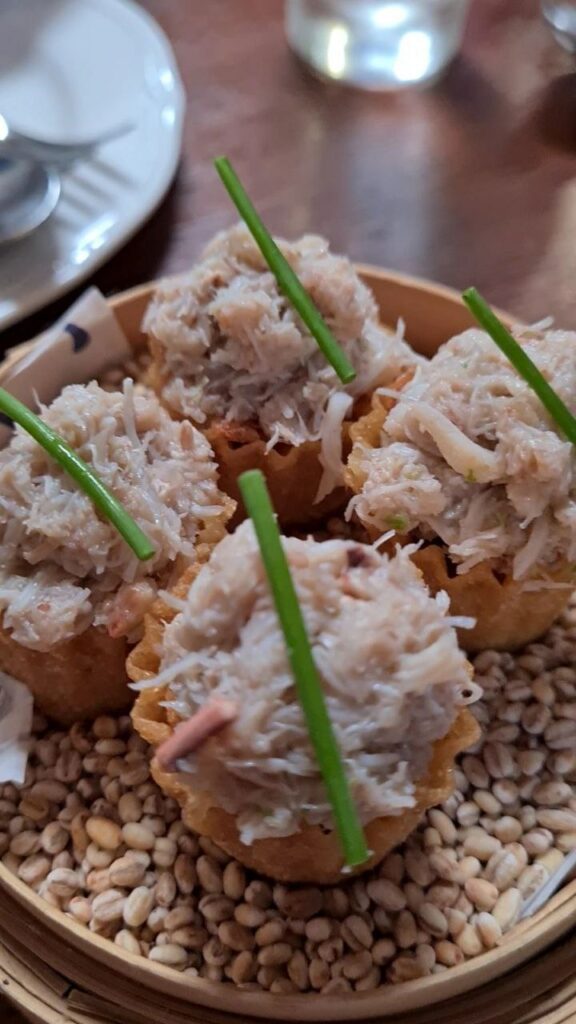 Starter
After the snack, there is a choice of one of three starters: Foie Gras, Escargot or Char Siew Lamb Rib. This was a difficult choice to make as everything appealed to us so we each chose one of each. It was the first time we had tried the foie gras. It was cooked with cocoa nibs, spice and cherries which perfectly complemented the rich taste of the foie gras. This dish is one that we would definitely order again.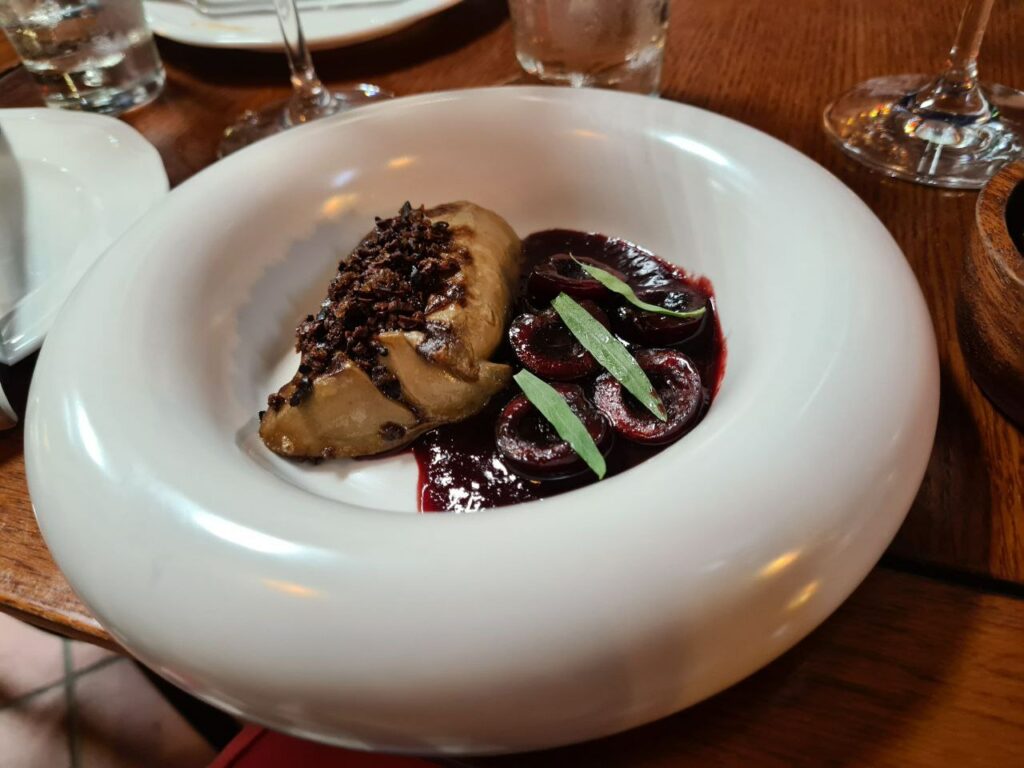 Chef Dylan is good in his combination of East-West flavours and this is evident in the excellent char siew lamb rib – another of the long-lasting items on the menu and obviously a favourite with the diners.  We have tried this on previous occasions and it was again cooked to perfection, falling off the bone and not overly fatty, which lamb rib can be. It was served with a delicious lebanese-style mint labneh ( a thick yoghurt).  
In addition, the final starter – the escargot, was new on the menu. There was a generous portion of escargot, beautifully presented with chanterelles on a hot plate and topped with a parmesan puff pastry. It was delicious, but a bit too rich and filling for us, as we are more accustomed to the traditional serving of escargot with garlic butter.
Our mains
Of the four mains available, we chose the Dover Sole Meuniere and the Galician Striploin.  The other mains were pork chop, and croquelet, which we did not try. 
The dover sole was quite small, much smaller than the usual ones we see in England, but it was sweet and tasty, and deliciously served with clams, citrus fruit and capers. It is served on the bone, for those of you who don't like fish on the bone, beware, as it is quite bony, but that was fine with us.  Would we order this again? The majority of our group (i.e. all but the one who does not like fish on the bone) said yes – as it was light but very tasty, and the bread, snack and starters had already started to fill us up.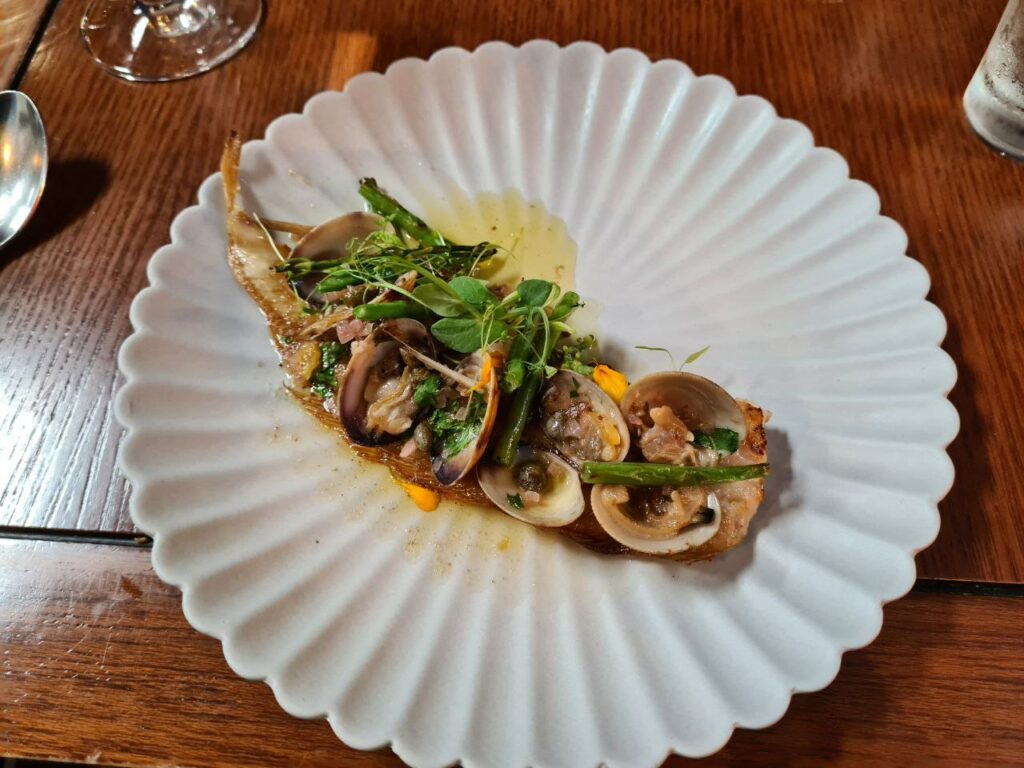 The striploin was quite tough and, for that reason, not to everyone's liking.  It was again served with a perfect complement of savoy cabbage, bone marrow, truffle rice, winter truffles and pickles.  However, the meat, though tough, was very tasty and was topped with a delicious scallion yorkshire pudding (not sure why, perhaps it was missing from someone's croquelet where its rightful place should have been but we're not complaining).  The verdict? Half of the group would order it again (the ones with stronger jaws) as it was really tasty, and the other half (wimps with weak jaws / blunt teeth) said that they wouldn't.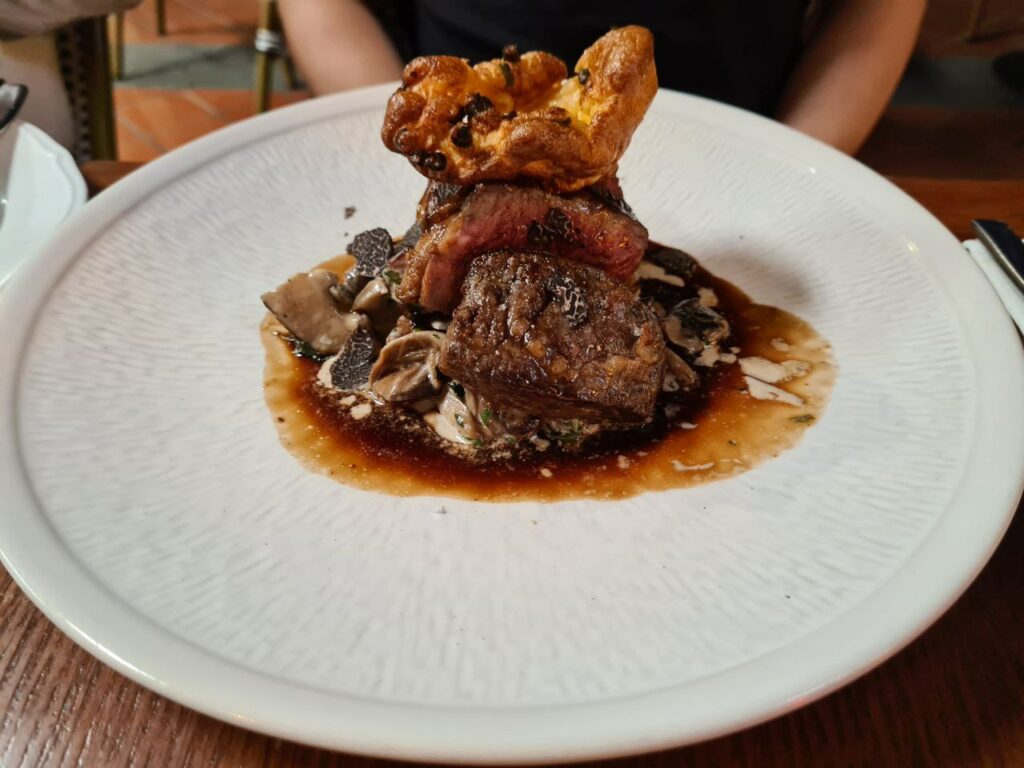 Dessert
We were all really full by the dessert course, and most of us opted for the lychee martini popsicles. These were a delight to have – refreshing and a perfect end to the meal. It was presented as a beautiful little ice lolly, made with vodka and topped with lychees and fresh flowers.  In addition to this, one of our group had the valrhona chocolate mousse and mint ice cream which was also delicious. It was a heavier dessert, for those who still had space in their stomachs by the dessert course.
Chef Dylan grew up in a family of hawkers, and trained in European cooking. His creativity in his dishes is evident, and the price of his food is very reasonable considering the seasonal ingredients and creative cooking techniques being used. His combination of European and Asian flavours really works for us, and we would highly recommend a visit to his restaurant.
There are also wine pairing options for the Chef Menu for $34, and a choice of interesting raw wines and cocktails.
Our favourites
Other dishes we would recommend are the C&C&C&C pasta (crabmeat, chorizo, caviar, confit lemon and lobster sauce), zucchini flowers filled with cream cheese and mascarpone, purple cabbage (with scallop and ikura dashi and prawn head butter) and the duck confit served with wok-hey kuay teow. We will need to visit another time to try other interesting sounding dishes like the jerusalem artichoke, vichyssoise and pork pithivier.
There are also two set lunch menus priced at $33.90 and $45.90 if you don't have time for a long, leisurely dinner.
Overall: The service is always great at The Masses and the menu is constantly changing which means we are always coming back to try new dishes!
Favourite dish: The lamb rib! (But I normally love the non-set-menu C&C&C&C pasta!)
Price : $$
*Our meal was $65 pp for the dinner set lunch and there are also two set lunch menus priced at $33.90 and $45.90.