We have been fans of Coriander Leaf since its early days at Clarke Quay. Since then, its dishes have evolved at Chijmes to include Chef Samia's modern and innovative take on classic Asian dishes from India, Pakistan, Myanmar, Thailand, Singapore and Vietnam dishes.
The dishes are small sharing plates presented under five distinct flavours: fresh, spicy, familiar, umami and sweet. What distinguishes it from many other Pan-Asian restaurants, is that there is not too much compromise on original authentic flavours. There is still a piquant "kick" to many of the dishes.
Ambience
The restaurant, on the second floor of Chijmes, has several dining areas. Sadly, we walked through the attractive main dining room which has an open kitchen concept and an attractive bar area and counter dining, to our table in the cooking studios at the back. The latter was a bit lacking in atmosphere. It was reminiscent of an airport business class lounge complete with TV screen showing our departure timings (if only!).
The Food
We were provided with a complimentary starter of the ultimate Thai finger food: Miang Kham. A traditional snack from Thailand, introduced to the Siamese court of King Rama V by Princess Dara Rasmi of Chiang Mai (thank you Princess Dara Rasmi of Chiangmai!).
"Miang Kham" translates into a "one bite wrap" where a wild betel leaf is filled with an array of hot, sour, salty and sweet ingredients. This includes shallots, hot bird's eye chilli, ginger, lime, roasted coconut, peanuts, dried shrimp and tamarind. These are then wrapped in a little parcel and popped into your mouth in a refreshing, hot, piquant bite. Historically, Miang Kham was part of a Thai welcome ritual, offered as a gesture of hospitality to visitors. Coriander Leaf's Miang Kham was delicious and we were delighted to receive such an exotic starter.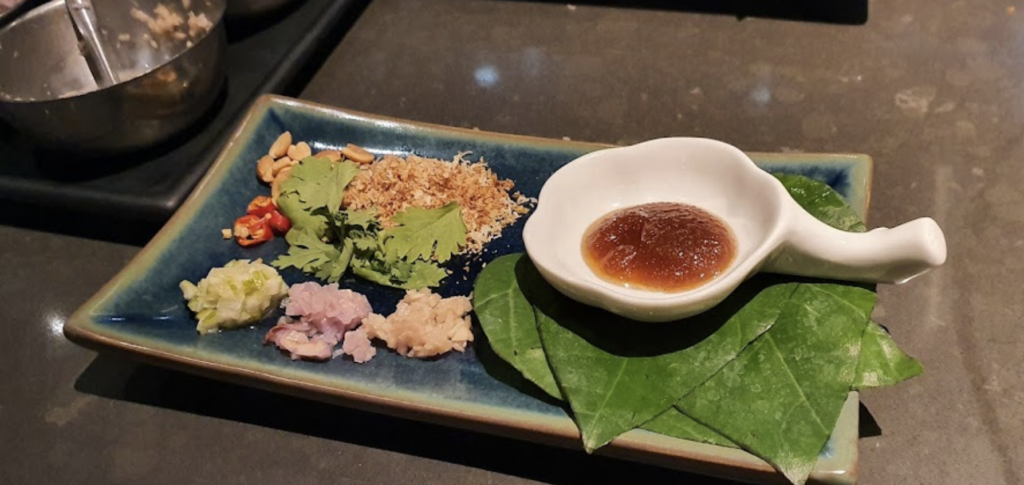 From the 'Fresh' menu we ordered three vegetarian dishes: Muhamarra, labne and pita chips ($16), Watermelon, mint, pomegranate and Turkish white cheese ($14) and Pomelo, watercress, roasted shallot chilli dressing, fresh herbs, peanuts ($15). The Labne (a thick and creamy yogurt dip), and the Muhamarra (a walnut and roasted red pepper dip) went very well with the crispy pita chips. The watermelon dish was tasty and extremely refreshing and the pomelo dish had good strong, appetising, Thai flavours.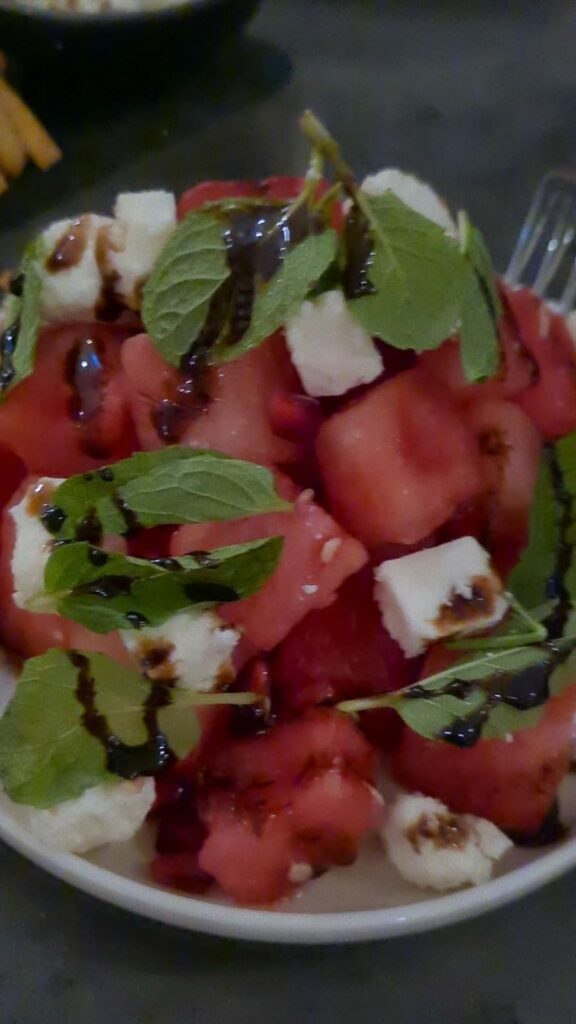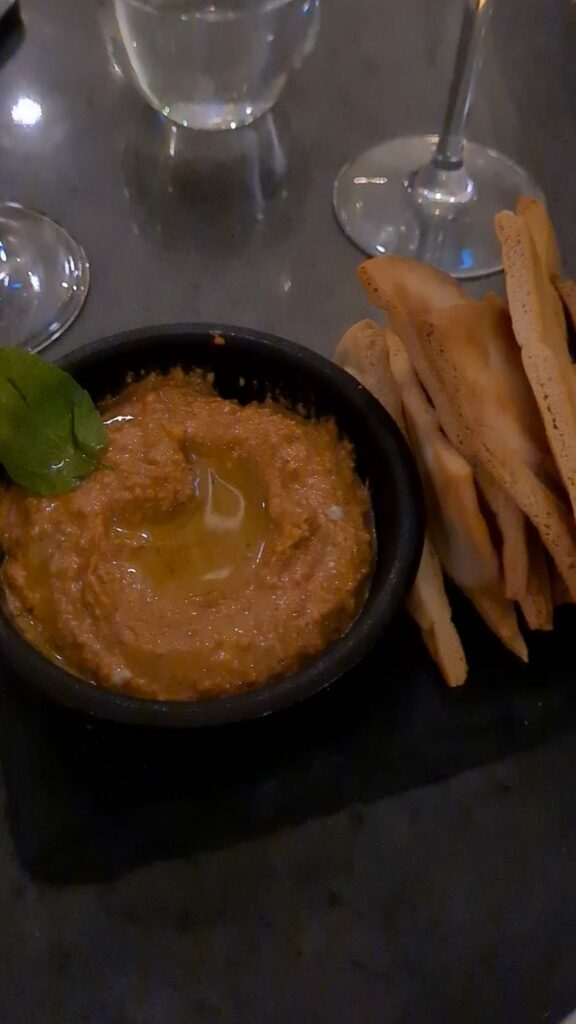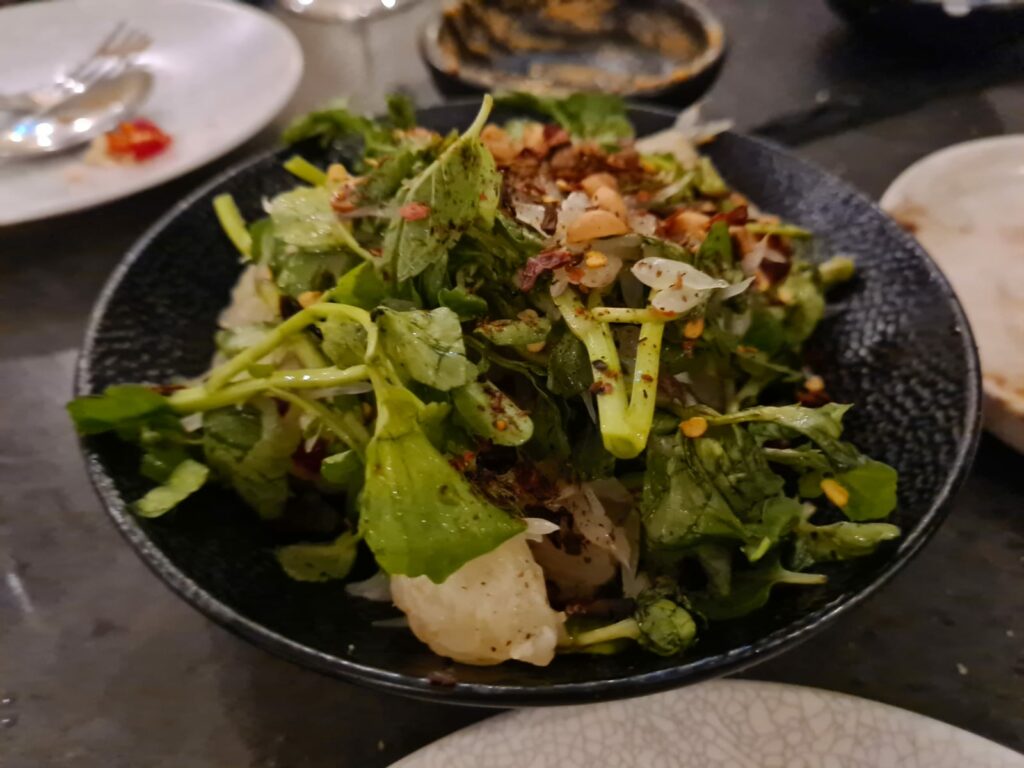 From the 'Familiar' menu we ordered an old familiar favourite of ours, Samia's "signature frontier chicken" cooked with coriander seeds, chilli, yoghurt cream, arugula and lemon ($22). Alas, it appeared to have been cooked differently to a new, non-familiar, recipe. Not sure what happened there but we definitely preferred the previous version. It was accompanied by delicious garlic naan ($6 each).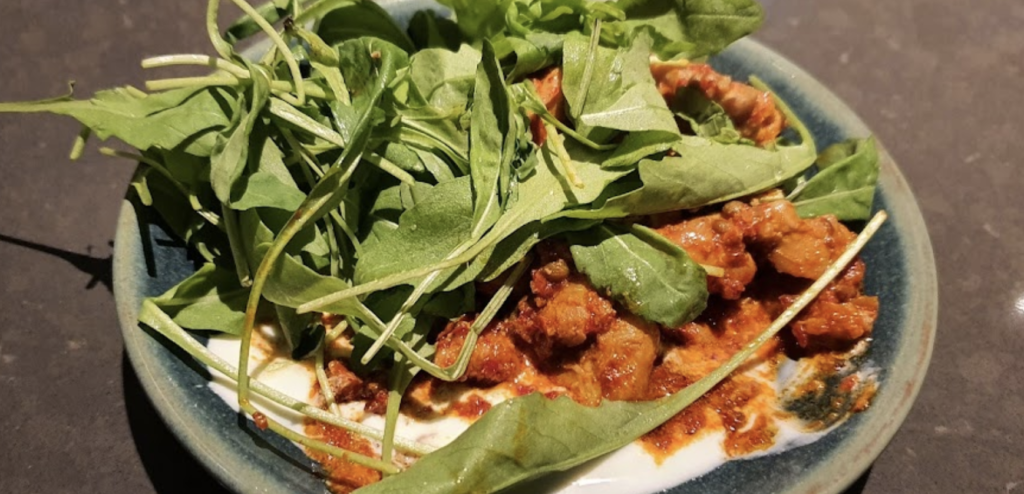 From the Umami menu, we ordered crispy duck mandarin pancake with hoisin sauce ($18) and roast duck red curry with lychee, tamarind, fresh green peppercorn and coconut milk ($26). Both duck dishes were very well cooked and the duck was tasty and of good quality. The Thai curry was a bit on the sweet side for our taste, often the case even in Thailand, but was delicious nonetheless. We also ordered crispy whitebait which was very well cooked in a light salt and pepper batter.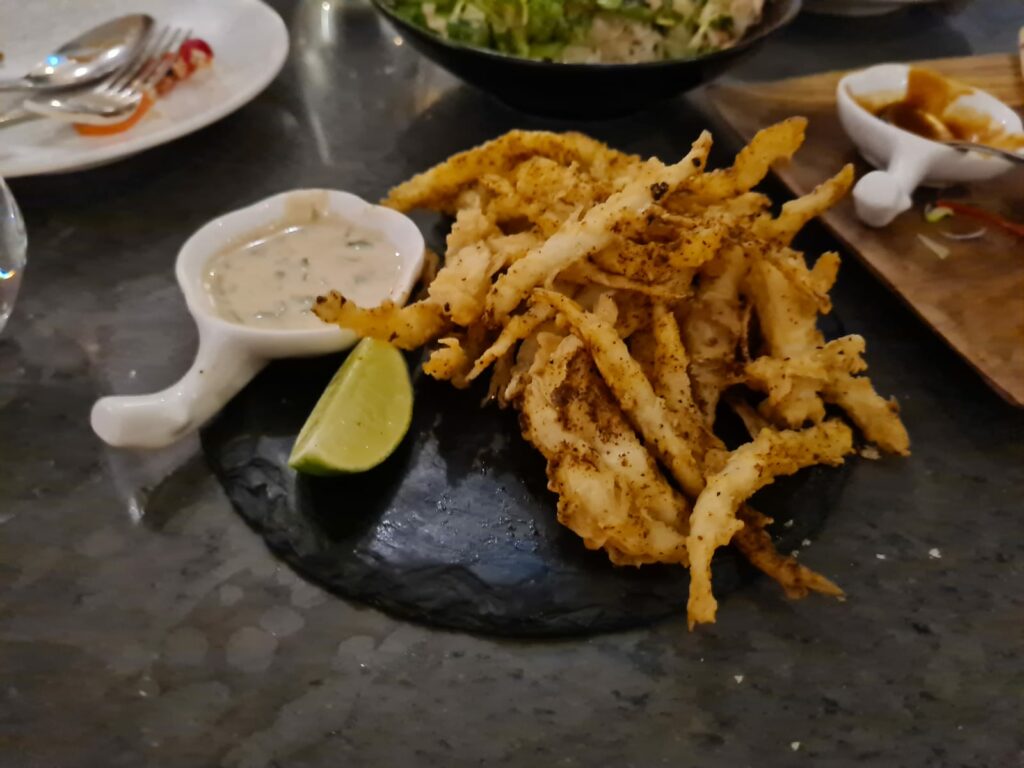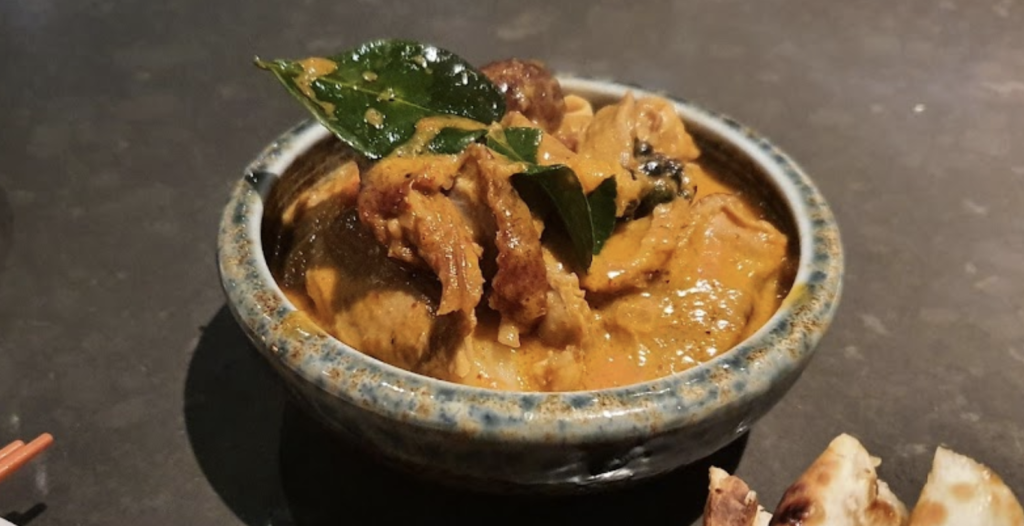 There were many other dishes we would have loved to try but we were getting full at this point and decided instead to order a dessert sampler platter of three desserts:
Ice cream sandwiches, rose pavlova with alphonso mango sorbet and avocado ice cream with fried banana fritters. All were amazing and disappeared within seconds (though we were complaining of being too full minutes earlier).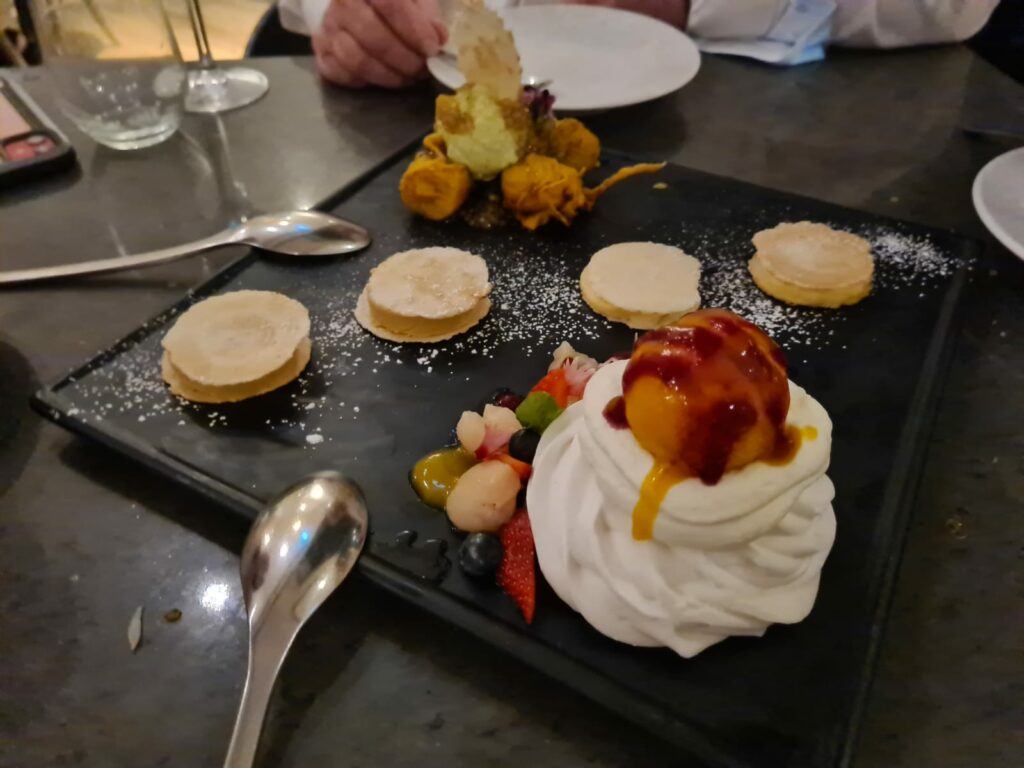 Drinks: The restaurant also has a good bar with an extensive range of wines and interesting Asian cocktails to complement the food.
Wine by the glass from $15; bottles from $78 and Cocktails from $18
Overall: The best thing about Coriander Leaf is the variety of dishes and its strong, non-compromising interpretation of ingredients and flavours. There are also lots of vegetarian options available. Would recommend sitting in the main dining room for the best ambience
Favourite Dish: I loved the watermelon feta salad!
Price: $$$