Fennel by Komala Vilas, at 413 River Valley Road, is described as a modern Indian eatery offering a tantalizing twist on traditional Indian cuisine.  It is the sister restaurant of the well-known Komala Vilas of Little India. Komala Vilas is a no-frills eatery serving traditional South Indian food including excellent Dosa which we often recommend to friends who want to try very good South Indian food.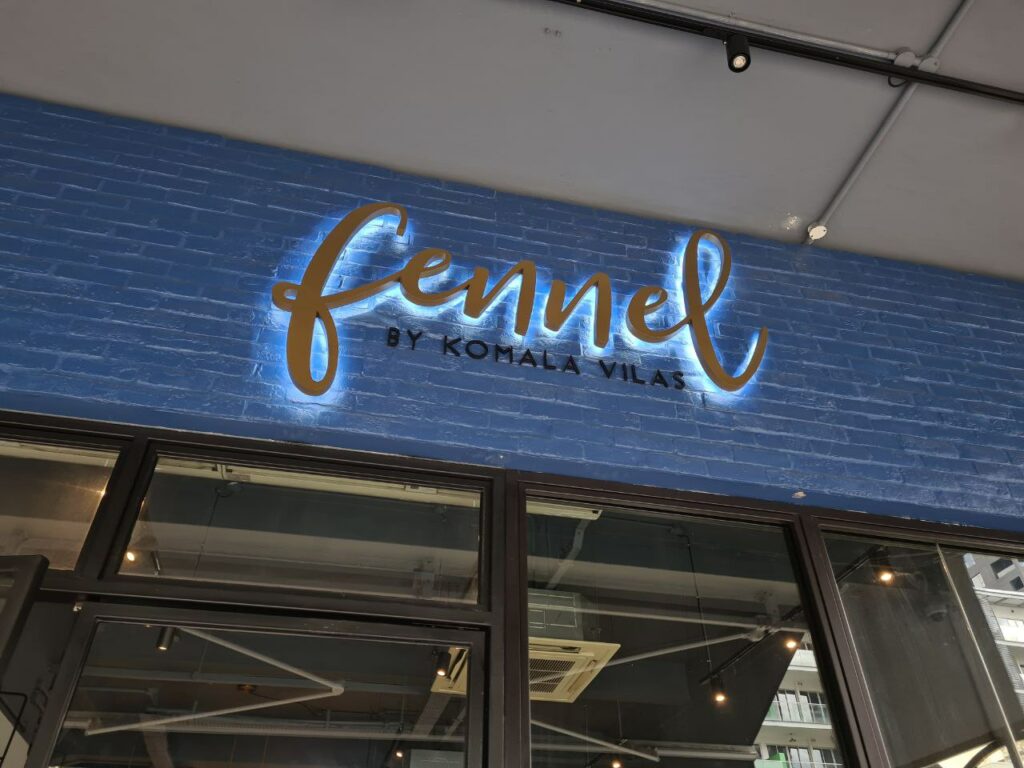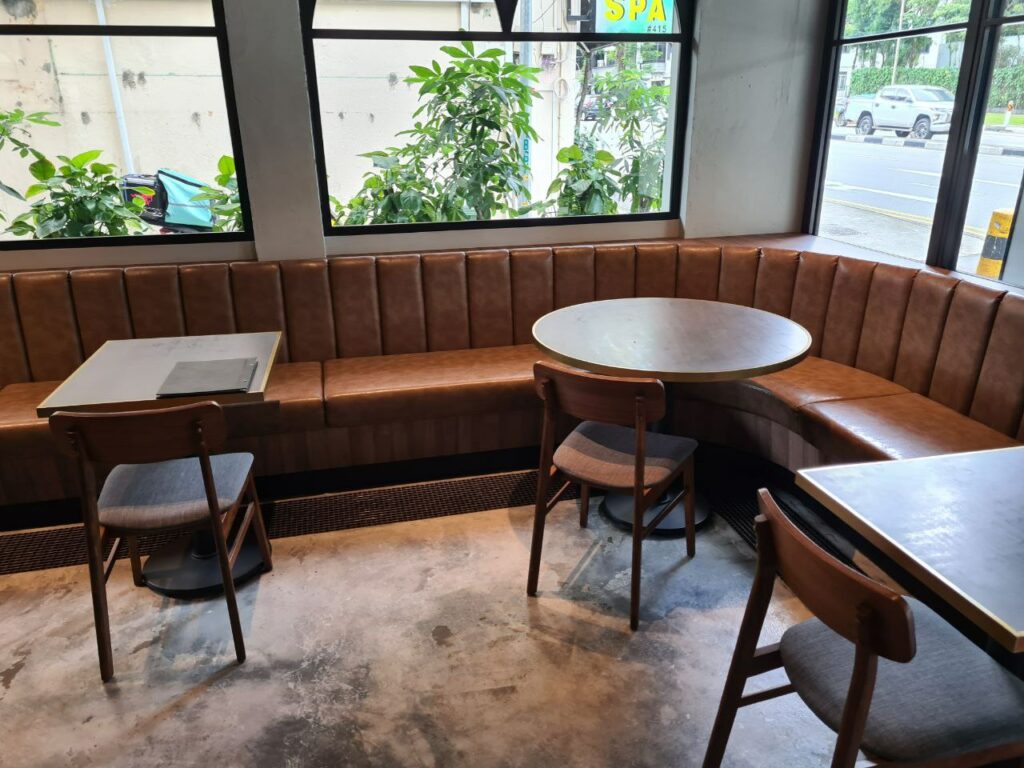 Fennel has an Indian tapas menu as well as traditional menu. It is vegetarian with some vegan and gluten free options so all the meat is plant based. It sounded promising so we decided to give it a try.
When we visited it around 2pm on a weekday, it was quiet and we were the only table of diners.
Tapas Menu at Fennel by Komala Vilas
We ordered the following dishes from the Tapas Menu: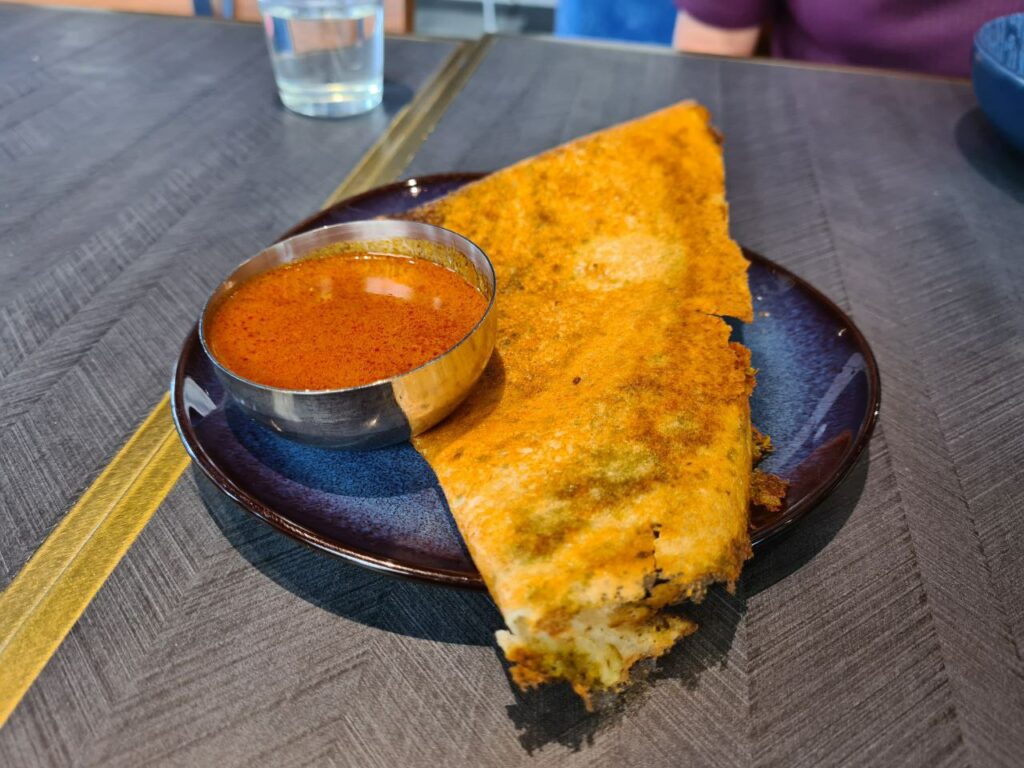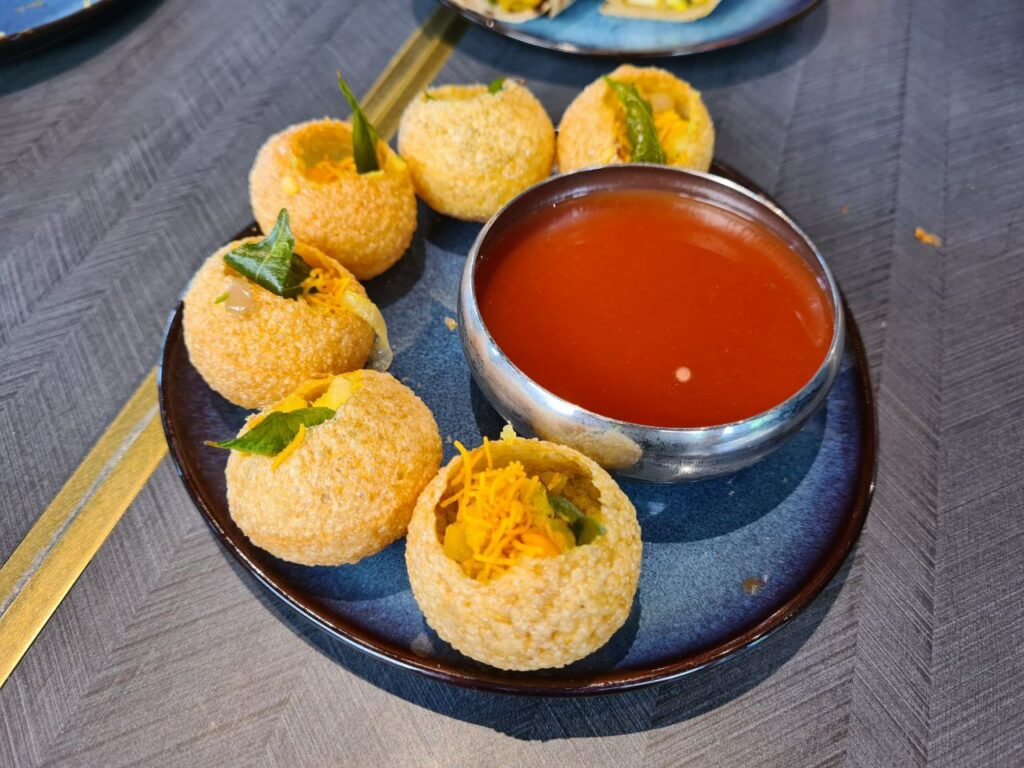 Tapioca Rasam Pani Puri ($8). Crispy balls called puri are served with a tomato broth which you fill into the balls and pop into your mouth. These were quite tasty and a nice appetiser.
Mini Dosa Served with Tangy Gravy ($4). This is what Komala Vilas excels in. These are crispy crepes made with rice and lentil batter. There is a choice of peanut podi, coriander chutney, curry leaf, gunpowder and garlic cheese. We chose the coriander chutney dosa and this was the highlight of our meal.
Chilli Prata with Raita ($6). Flaky pratas was tossed in spiced flour, sautéed with capsicum and onions, then fried till crisp. This was quite carb heavy though tasty.
Paneer Chappathi Roll ($7).  The Chappathi was stuffed with paneer (cubed cottage cheese), onion, sautéed capsicum, freshly diced tomatoes with a dash of cumin powder. This was probably the healthiest option that we ordered.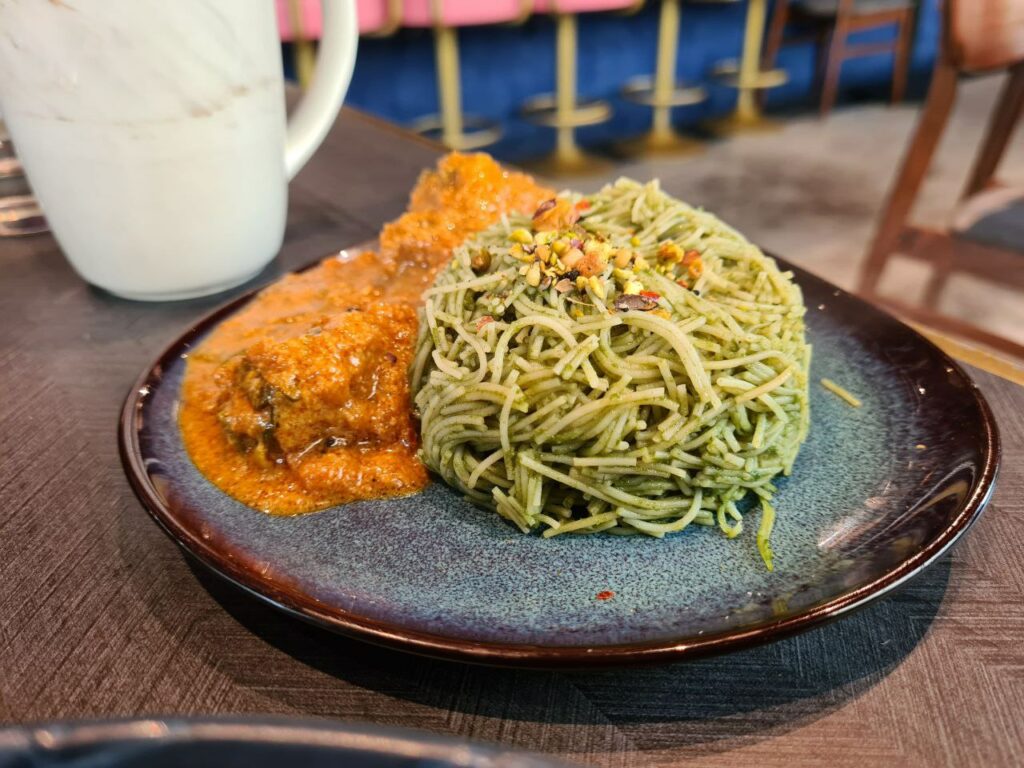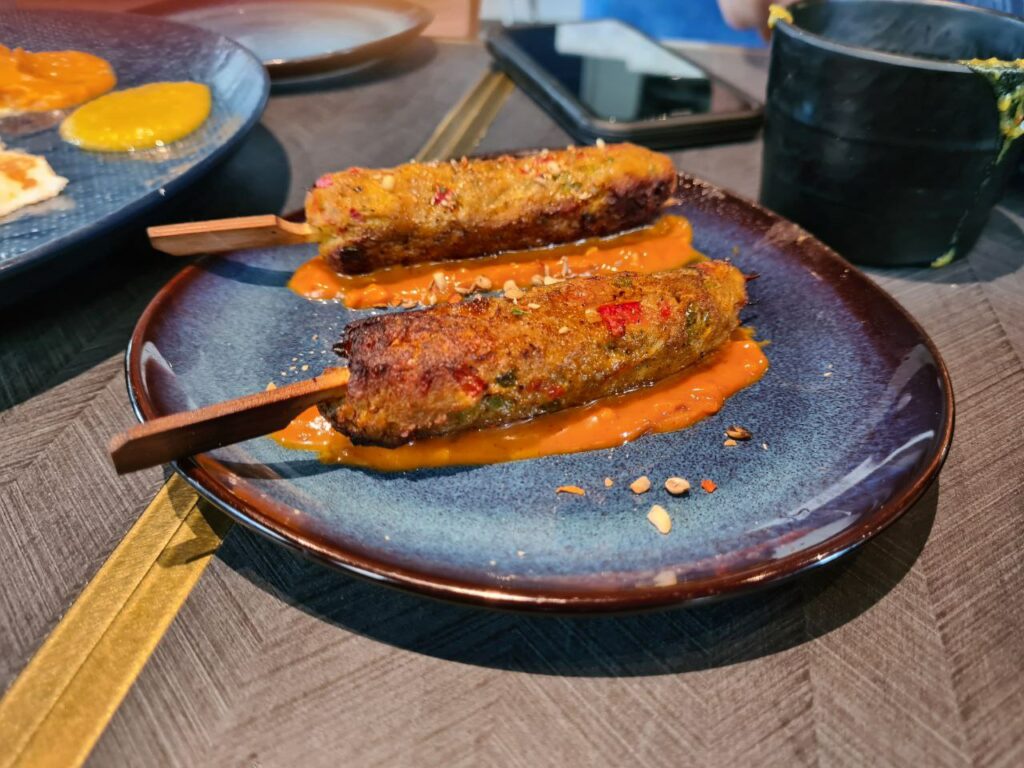 Vadai Curry with Coriander Beehoon ($6.50). This was Komala Vilas' famous Vadai Curry combination served with a coriander beehoon. This was a bit on the heavy side, but the curry was good and spicy.
Kefir-Curry Vegetarian Chicken Satay ($6). This was made from plant-based Tindle Chicken with a peanut sauce.
Traditional Menu & Drinks
From the traditional menu, we ordered Uttapam ($4.40), a thick pancake. The array of sambar and chutneys served with this were all very tasty.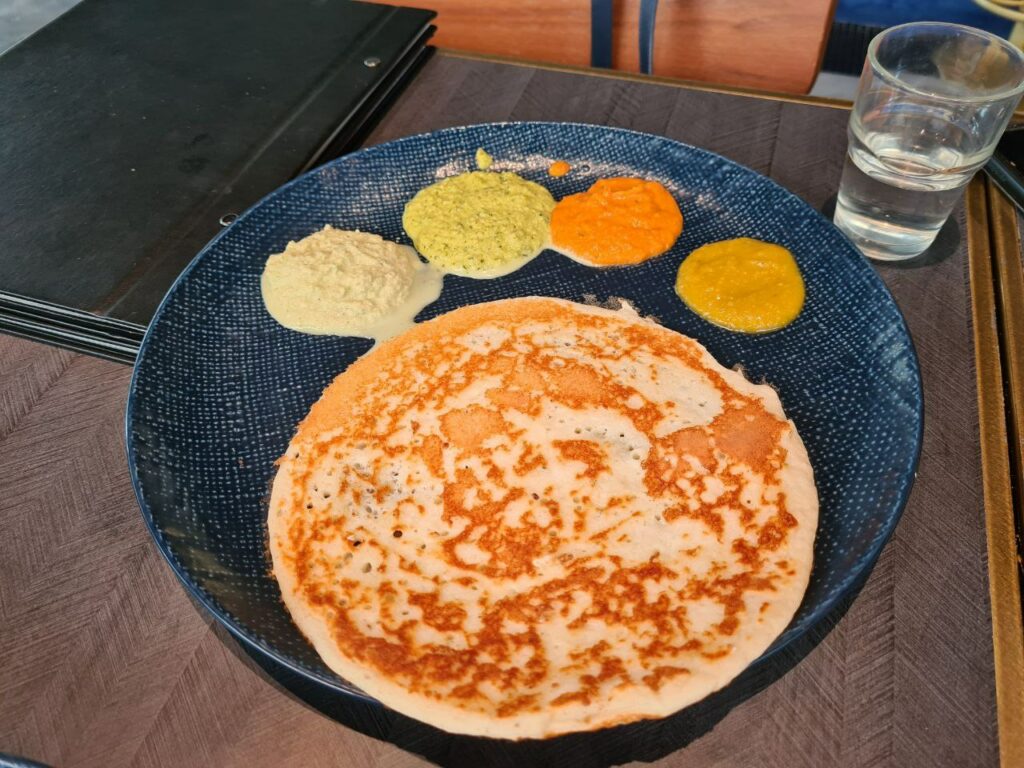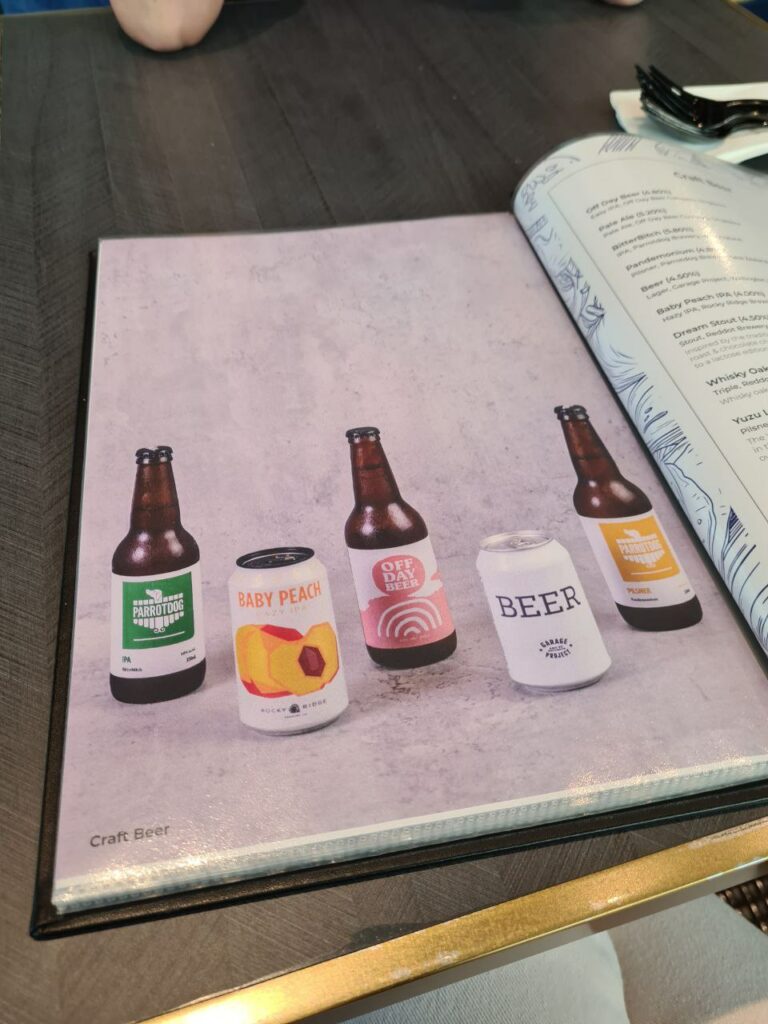 There are milkshakes, lassis, craft beers ($11 each) and tea. We ordered a masala tea ($4.40). When we noticed a small insect in it, we pointed this out to the waitress, who promptly took it to the kitchen and returned with the cup, sans insect, 10 seconds later. I think we could have fished it out ourselves.  
Overall: Not a bad attempt at presenting tapas-style dishes, though we prefer the food at the original Komala Vilas
Price: $
Favourite Dish: Mini Dosa with Tangy Gravy