Tan Yu specialises in grilled fish and can be found in over 70 major cities in China. It opened its first overseas flagship store in Singapore on 8 Dec 2017. In order to cater to the diverse tastes of local Singaporeans, Tan Yu makes use of a variety of cooking methods and offers 8 kinds of flavours for its grilled fish, such as mixed chilies, garlic, cumin, Thai style, spicy and pumpkin soup.
We have tried the restaurants at 313 Somerset (Basement 3) and at Bugis Junction (02-45). The décor is completely different in the two restaurants. The 313 Somerset one is dark, industrial, cute and quirky, and the Bugis Junction one is white, modern and airy.  They obviously didn't go for a standard look!
Grilled Fish
We ordered two grilled fish dishes: one with Green Pepper Flavour (which came with tofu), and the other with Mala flavour. We also chose the "golden combination" for one of them. For an extra $12.90, you can have golden enoki mushroom, crab stick, potato and lotus root added to the dish so it is a complete meal.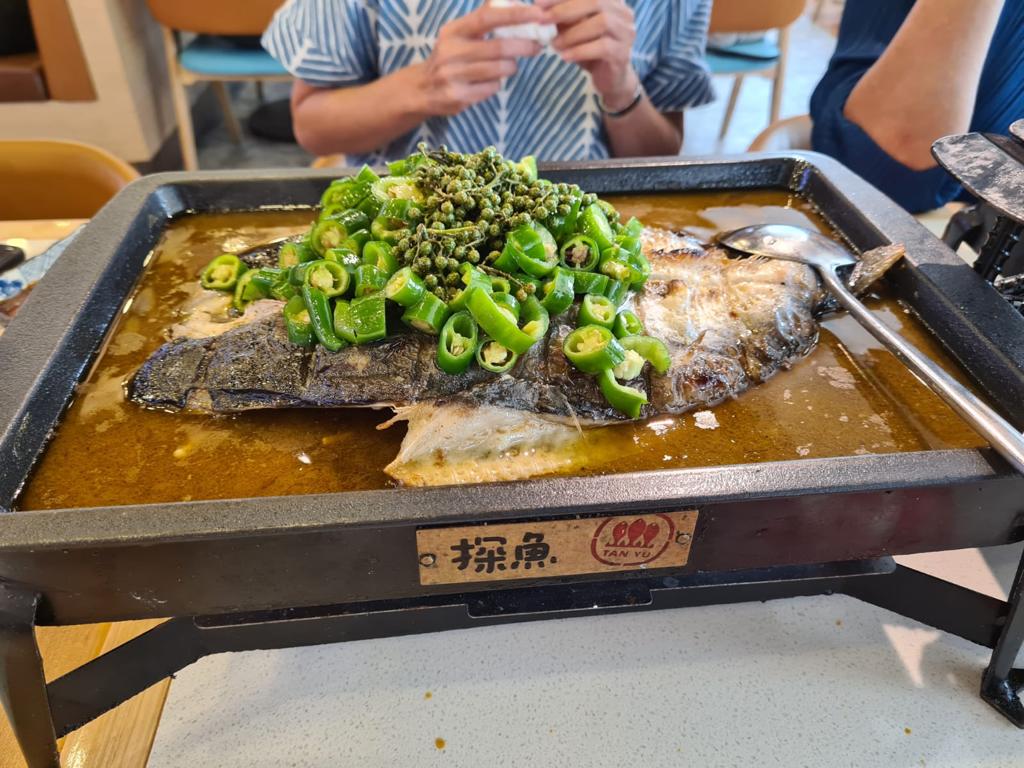 There is a choice of fish: we ordered the 'Limbo' fish (a Basa fish) at $45.90. You can also choose sea bass which costs slightly less ($42.90) or Qingjiang fish which costs slightly more ($48.90). We chose to have the Limbo fish filleted for one of our dishes. Limbo fish fillet is $40.90 and is well worth ordering if you don't like fiddling around with fish bones as it is still substantial. Both dishes were really tasty, hot and spicy.  The fish was fresh and surrounded with chilis and peppers which was satisfying as we were craving hot and spicy food!  
Side dishes and Drinks
We also ordered two side dishes: the hand-made spring roll ($6.80) and the grilled double taste rice cakes ($7.80).   The spring roll is often sold out – it is long and pencil like and tasty. The rice cakes are made to look like fish skin, but are mochi-like with a crisp exterior and gooey interior. They are topped with a sweet jaggery-like sauce which makes them taste like a dessert though we were happy to have it with our meal as it took away some of the heat from the main dishes.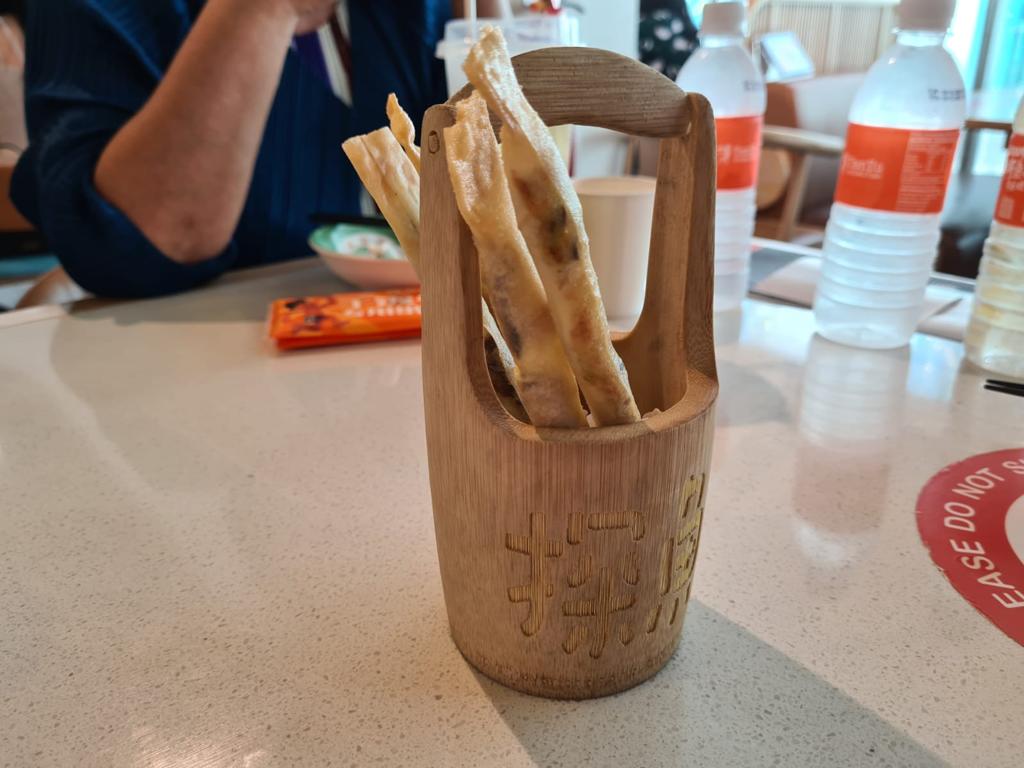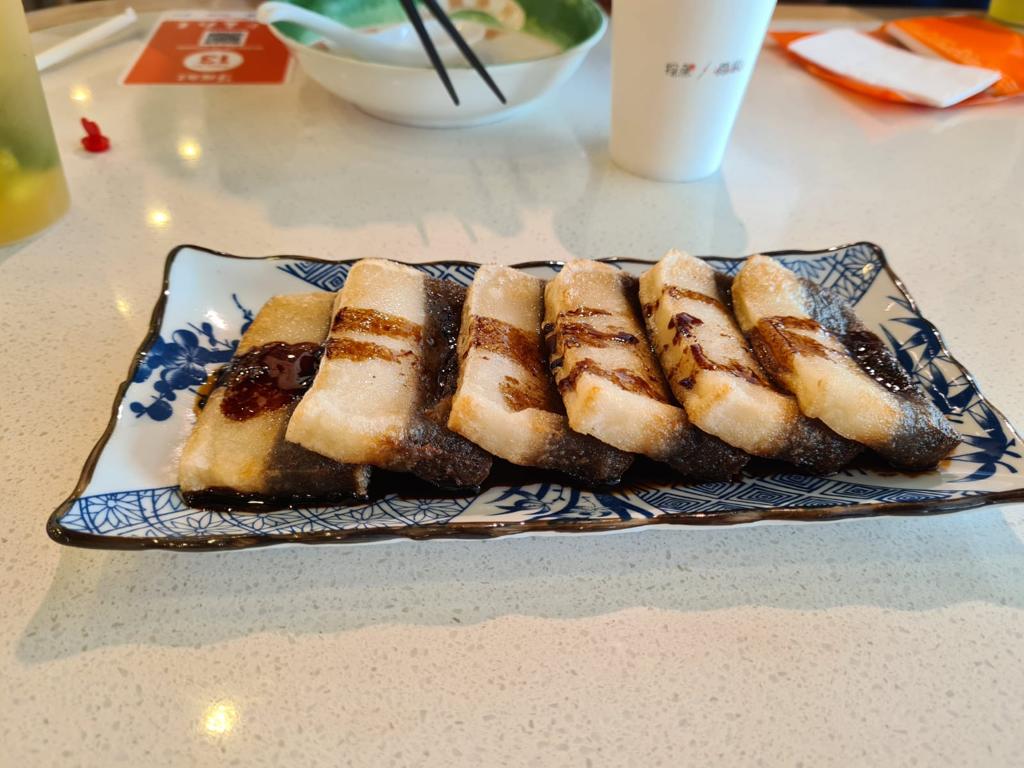 A range of beers are served (from $9.80 for a Tsingtao, Asahi or Tiger Beer). There are also some great homemade drinks.  We had the lemon and lime drink which comes in a carafe ($4.80).  You do need a lot to drink with this meal if you go for the hot and spicy options!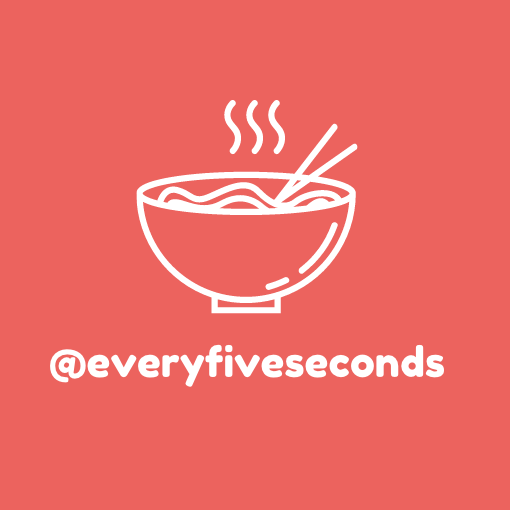 Overall: Very tasty fish and a great meal to share among friends. One fish is probably enough for 2-4 persons, depending on whether you have rice and side dishes.
Price: $$
Favourite dish: Mala fish!